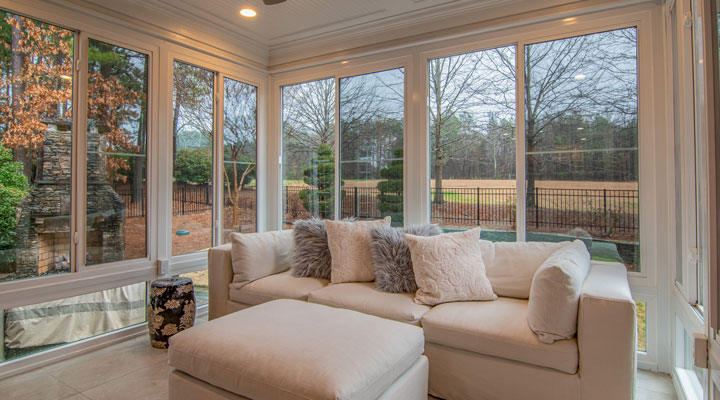 Everyone loves a clean window from glass to the sill, top to bottom. It can improve curb appeal, let in more sunlight and make a good first impression on your visitors. What many people don't know is that there are benefits to your family and your home when keeping your windows clean. We will share with you 4 reasons for window cleaning and why you'll want to add this to your home maintenance plan.
Protect Energy Efficiency
Windows are an investment into your home, you get out of it what you put into it. Keeping your windows clean with proper care can help keep coatings and insulation functioning as intended. The dirt build-up on your window can lower your home's heating efficiency. If dirt keeps the sunlight out, it can't warm your home!
Allergen Reduction

Especially in the spring and summer allergy problems are very high and common. Windows are allergen collectors by nature. Dust and pollen can settle and stick to glass and frames, as soon as you open your window they're in your house.
Neglecting to clean your windows and window sills regularly can lead to allergy symptoms such as headache, runny nose, itchy eyes/face, sneezing, coughing, fatigue, etc. If your windows aren't cleaned, maintained, and sealed properly, they're also not airtight. This leaves room for all the pollen and dust to collect and enter your home.
Spider and Insect Control

Spiders and small insects find small spaces, typically, to go in and out of your home or to make a home (or web) there. These pests are not only unsightly but they could create a hazard if gone untreated. Cleaning your windows and window sills thoroughly and often can help keep these nooks and areas free of spiders and insects to further protect you and your family.
Mold Prevention

Any formation of mold is one of the most serious hazards homeowners face when it comes to keeping their home and family safe. Condensation in your windows can create a breeding ground for molds to grow. Mold lives in moisture and if you don't keep your windows clean and dry, it could be growing without you knowing.
Only professional window cleaners can eliminate mold from your home. They have the proper knowledge and equipment to make sure there's no mold growing or left. If mold goes unnoticed it can make your allergy symptoms worsen, or worse, cause serious respiratory infections (especially in children and the elderly)
Protecting yourself, your family, and your home is important, so cleaning your windows should be too! Having professional window cleaning can give you peace of mind to ensure your investment and family are safe. E-Z Window Cleaning is here for your cleaning and maintenance needs. Contact us today to schedule your professional and affordable window cleaning service.