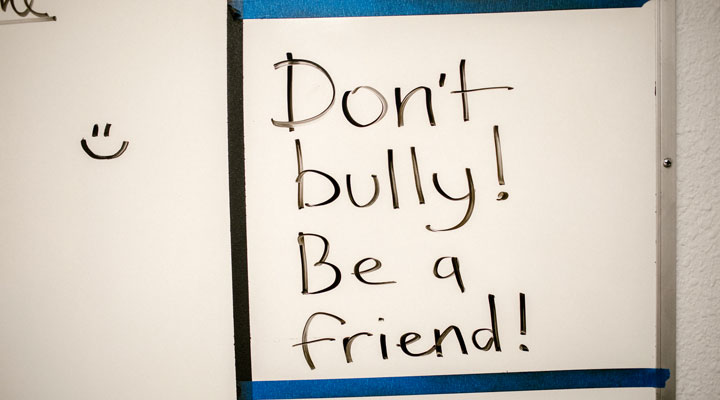 In 2006, PACER started a campaign to recognize October as National Bullying Prevention Month. Their goal was to bring awareness to the problem of bullying and to encourage communities, schools and leaders to take action to make schools safer.
Approximately 20% of youth in the United States say they've been bullied. For some, they might experience it at school. Others might face bullies on the playground, school bus, and even online. It's unfortunately a too common problem that we've all seen or even experienced ourselves as children.
Unfortunately, bullying isn't just a "kid" thing – according to the Workplace Bullying Institute, 19% of adult Americans are bullied at work as well.
Five ways you can help prevent bullying:
Teach kids how to identify and respond to bullying – Teach your children to be good citizens at a young age. Encourage them to show kindness to others who are bullied, and to stand up to bullies confidently.
Make time for family dinners – Today's busy schedules might make it difficult, but getting together around the table for a family dinner is more important than ever. It gives everyone a chance to unplug from technology and talk about their day. Take this opportunity to ask your kids what has been happening at school.
Encourage kids to get involved in social extracurriculars they enjoy – Involvement in hobbies, sports, clubs and other activities is a great way for kids to gain confidence, build relationships, and develop social skills. All of these things equip them to better handle being bullied, and also can provide outlets for children who are at risk of becoming bullies.
Supervise technology use – Encourage responsible use of all technology and social media – by everyone in the household. Monitor kids texts and address any concerning messages with them directly. Any threatening messages should be reported to both the school and the police.
Lead by example – Treat others with kindness – Perhaps the best way to prevent bullying is to lead by example. Treat friends and strangers alike with respect and kindness. Show your children how to be a positive influence within your community by volunteering or helping your neighbors. Build others up instead of tearing them down.
Focus on kindness during National Bullying Prevention Month
Perhaps the easiest way to combat bullying is to be kind. Simply by helping others, having a positive attitude, and being empathetic, you can help spread kindness wherever you go. Kindness reduces stress, depression, aggression, and social disconnect – all of which are factors associated with bullying.