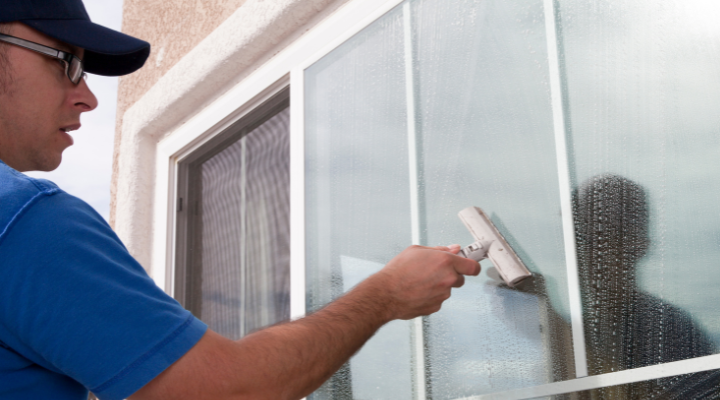 If you own a home, you know there's plenty of routine cleaning, and cleaning windows is no exception. If you already use a professional housekeeping service, you might be tempted to ask your housekeeper to clean the windows.
Window cleaners and housecleaners are both professionals. However, housecleaners have a wider range of household responsibilities. Although they may do an adequate job on your windows, they'll never achieve what a well-trained window cleaner can.
While this is the most convenient and most accessible step to have clean windows, there are good reasons to use a professional window service.
Windows Cleaner Focus On One Job
Instead of depending on a maid or house-cleaning service to clean your windows, having professional window cleaners handle the job will give you a clearer view. Professional window cleaning crews focus on one assignment — cleaning your windows. Professionals also have the proper tools and knowlege to handle any shape or style of window, and you can also count on cleanliness and precision.
Time Saver
Because professional window cleaners are equipped with the needed supplies, they typically complete the task half the time as the housekeeper. Their speed is due to experience and the fact that their job is to only focus on the windows, with no distractions. Hiring a window cleaning service also means the cleaner will take care of all the extra bothersome details, like washing the window sills and vacuum-cleaning dead bugs.
Extend the life of windows
Acid rain and hard water can cause layers of debris on your windows, sills, and window frames. Aside from an unappealing look, acid rain will damage your home and glass windows over time. Debris and dirt will enter the glass pores, leading to contamination and corrosion.
Exposure to environmental elements impacts the window's overall look, affecting more than the window's aesthetics. Regular cleaning by professional window washing services will help improve the window's aesthetics and increase its durability.
Recognize Possible Problems
Window cleaners get a close-up view of all different types of windows daily, and, as a result, they are experts at identifying potential problems, such as chips, cracks, wood rot, or broken seals. Detecting these issues right away can save you time and money in the long run.
Both Sides Of Your Window Clean?
Professional window cleaners clean your window inside and out. A house cleaner is unlikely to wash the windows' outer side, especially if it means using a ladder, like living in a two-story or apartment building. As a result, you might get clean windows, albeit from one side, with dirty streaks on the outer side.
Let E-Z Window Cleaning eliminate the inconvenience, time, and energy of cleaning your home's windows and gutters. If your windows need cleaning, ask for an estimate. We offer a section where you can upload photos and get an estimate immediately. Give us a call at 262-349-9493 and let your windows shine. Visit our Facebook Page!