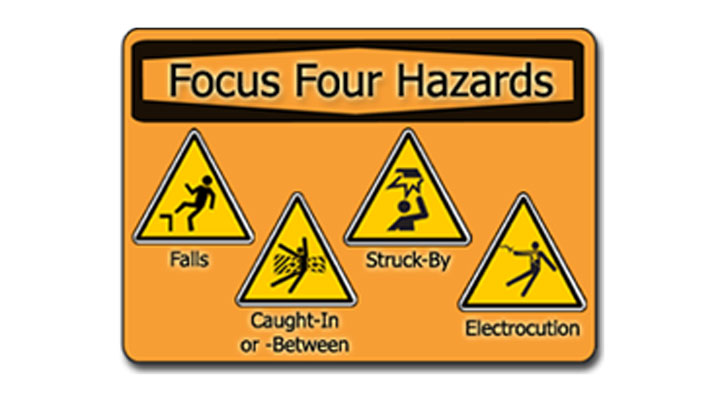 Earlier in June, we talked about National Safety Month. On a similar topic, we are spotlighting the Occupational Safety and Health Administration (OSHA) Focus Four Outreach Training Program. The Focus Four Hazards have caused a vast number of workplace injuries and fatalities.
Seeing these statistics, OSHA has instituted the "Focus Four Hazards" campaign from March through June 2021. The goal is to improve identification, assessment, and control of these hazards by presenting toolbox talks for employers to give to their workers for safety guidance.
Construction's "Fatal Four":
In 2018, there were 5250 worker fatalities in the private industry. From that number, 1008 or approximately 20% were in construction―that is, one in five worker deaths last year were in construction.
The primary causes of worker deaths on construction sites were because of
Falls
Struck-by Object
Electrocution
Caught-in/between
According to the U.S. Bureau of Labor Statistics (BLS) reports, these "Fatal Four" dangers were responsible for well above half (59%) of the construction worker deaths in 2018.
Falls – 338 out of 1008 total deaths in construction in CY 2018 (34%)
Struck by Object – 112 (11%)
Electrocutions – 86 (9%)
Caught-in/between – 55 (6%)
This category includes construction workers killed when caught-in or compressed by equipment or objects, and struck, caught, or crushed in collapsing structure, equipment, or material.
Eliminating these Four Hazards would save 591 workers' lives each year.
In addition to online and in-person training, E-Z Window Cleaning pays particular attention to safety issues, training our employees annually, and continuing education.
Let E-Z Window Cleaning take the hassle out of cleaning your home's windows and gutters. If your windows need cleaning, ask about an estimate. We provide a section where you can upload your photos and get an estimate right away. Give us a call at 262-349-9493 and let your windows shine. Visit our Facebook page!