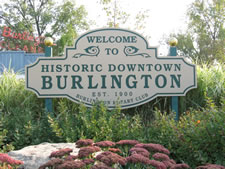 Top Window Cleaning in Burlington
Nestled in the nook of the White River and the Fox River, Burlington is in close proximity of Milwaukee, Madison, and Chicago. First settled in 1835, the beautiful expanse of a city now inhabits over 10,000 people who enjoy farmers' markets, community bands, baseball tournaments, historical sites, and of course, Chocolatefest! Home of Nestle Chocolate factory, the delicious sweet temptations are honored over the Memorial Day weekend with local bands, a variety of entertainment, and vast amounts of food—and chocolate! With year-round activities, residents of Burlington enjoy getting to know their neighbors and meeting new people. But be careful, their hospitality is contagious. It is in this friendly neighborhood that E-Z Window Cleaning has found its second home. Come check out all the services that we can provide to your family or your business!
Michael Cornish started E-Z Window Cleaning as a second income. Since that humble beginning of washing windows for a few residential homeowners, E-Z Window Cleaning has grown into a company that can handle everything from large to small. We have the experience and tools to complete any job fast and efficiently. Whether it is cleaning of mirrors and light fixtures, or power washing and gutter clean out, we give each of our customers that same attention to detail. We are confident in the quality of service that we provide. Therefore, you will receive a full refund if you are not fully satisfied. We also use client feedback to help us continue to grow and improve. Customer satisfaction is key to E-Z Window Cleaning remaining the best rated in the industry, year after year.
Burlington, Wisconsin – Burlington Window Cleaning Service
To acquire a free estimate, or for more information, please give us a call at
(262) 349-9411
or email
[email protected]
. Our helpful staff is here to answer any questions on servicing your "panes". For the fastest estimate, go to our
estimates page
, and have one in minutes!