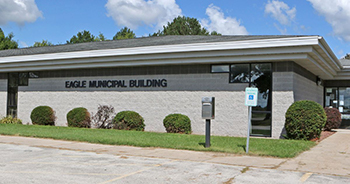 Leading Residential Window cleaning Company Eagle
Home to the smiley water tower, Eagle residents pride themselves on their hospitality and goodwill. With 2,000 citizens, the village is filled with opportunities to shop, to eat, and to socialize. Seeped in history, visitors can learn about this quaint area by visiting the Eagle Historical Society or the nearby Old World Museum. Nature enthusiasts can enjoy the mature foliage and challenging trails of Scuppernog where families can hike, run, or go cross country skiing. Or, you can stroll through the beautiful Paradise Springs Nature Area. This town is definitely a gem of Wisconsin, known for discovering a diamond in 1876. Residents of Eagle can appreciate quality and value a strong work ethic, making E-Z Window Cleaning the company to call for your exterior and interior window needs!
We started out our industry cleaning residential windows for men and women like you and others like you. E-Z Window Washing is just not satisfied with our cleaning services unless the customer is. Our focus is to outdo your presumptions. Therefore we guarantee the very best level of cleaning up services. To do this we use quality control programs such as a consumer inspection at the end of each job and client surveys. And of course, we continually encourage consumer communication. We always use of your feedback to increase our level of service. If we are struggling to meet our customer's approval, we are going to offer a total refund!
Mirror and light fixture maintaining consists of an equal regard to detail as window maintaining. Our company has got the knowledge and discernment to tidy up your fixtures the perfect way using the ideal components and solutions. Be it a crystal chandelier or outdoor patio lights, we undoubtedly attain the skills to do the job correctly!
Eagle, Wisconsin – Window Laundering Service
Please be sure you get a no cost estimate. Additionally, for even more info, or simply to set up an appointment, phone us at
(262) 349-9493
or
email us
. We'll be very happy answer every one of your individual inquires.