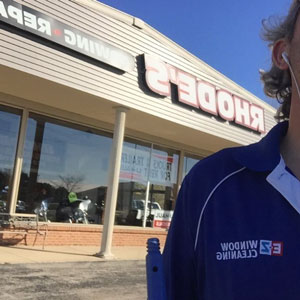 The Best Residential Window Cleaning in East Troy
E-Z Window Cleaning has been serving local customers in East Troy since 1999 and has one of the highest customer satisfaction ratings in the industry. East Troy is home to the Electric Railroad, Laubers Ice Cream Parlor and Gus's Drive-In. It's unique and charming downtown square holds several community events throughout the year and is minutes away from Alpine Valley Ski Hill & Resort. If you haven't been to East Troy, check out some of their upcoming events!
E-Z Window Cleaning was started as a second income for our founder, Michael Cornish. Since that humble beginning of washing windows for a small number of residential homeowners, E-Z Window Cleaning has grown into a company that can handle everything from big to small. We have the experience and equipment to complete any job quickly and efficiently. Whether it is cleaning of mirrors and light fixtures, or power washing and gutter cleaning, the same attention to detail is given to all of our customers. We are confident in the quality of service that we provide, we guarantee 100% customer satisfaction or a full refund will be issued. We use client feedback to help us continue to grow and improve. That is the secret to our remaining the best rated in the industry of customer satisfaction year after year.
East Troy, Wisconsin – Window Cleaning Service
To obtain a free estimate, or to learn more about E-Z Window Cleaning, please call us at
(262)349-9411
or email
[email protected]
. Our friendly staff is here to answer any questions on servicing your "panes". For the fastest estimate, go to our website, and have one in minutes!