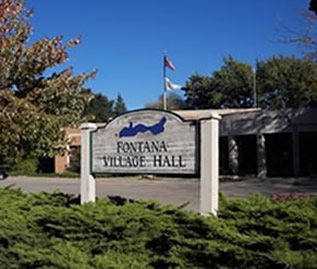 Top Window Cleaning in Fontana
Nestled along the shore of Geneva Lake in Walworth County, Fontana is home to almost 2,000 residents as well as a weekend getaway for another 5,000 property owners. And the attractions are the best kept secret: natural parks, wildlife, conservatories, and foliage inhabit the expansive landscape, providing serene hiking trails and camping excursions. This small village prides itself in caring for fin and feather and is home to natural conservations, duck habitats, and Bird City. Beautiful landscapes and gardens attract a variety of winged friends that would make most ornithologists jealous. Rivers and creeks welcome anglers with boat access, and families are drawn to the beach, staying into the night to watch movies sponsored by the village from June to August. There is no better place to spend a hot summer than in Fontana!
Fontana window cleaning by E-Z Window Cleaning has been servicing the Fontana area since 1999 with the highest approval rating in the industry.
Michael Cornish started E-Z Window Cleaning as a second income. Since that humble beginning of washing windows for a few residential homeowners, E-Z Window Cleaning has grown into a company that can handle everything from large to small. We have the experience and tools to complete any job fast and efficiently. Whether it is cleaning of mirrors and light fixtures, or power washing and gutter clean out, we give each of our customers that same attention to detail. We are confident in the quality of service that we provide. Therefore, you will receive a full refund if you are not fully satisfied. We also use client feedback to help us continue to grow and improve. Customer satisfaction is key to E-Z Window Cleaning remaining the best rated in the industry, year after year.
Fontana, Wisconsin – Fontana Window Cleaning Service
To acquire a free estimate, or for more information, please give us a call at
(262) 349-9411
or email
[email protected]
. Our helpful staff is here to answer any questions on servicing your "panes". For the fastest estimate, go to our
estimates page
, and have one in minutes!