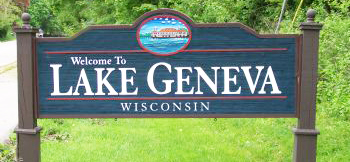 Best Window Cleaning in Lake Geneva
E-Z Window Cleaning has been servicing the Lake Geneva area since 1999 with one of the highest customer satisfaction ratings in the Industry. Lake Geneva has many attractions, whether you are a resident or someone passing through you can't help but fall in love with the small shops and friendliness of the town. There are many quaint shops that can provide things such as attractive decor for the home on up to enjoying a nice meal or touring the city. The Tattered Butterfly or Cornerstone Shop and Gallery have very artful home decor. If you are someone who loves to cook, check out Galena Garlic Company. They offer special artisan sea salts, rubs and olive oils. On the other hand, you can enjoy a sunset dinner cruise on the Lake Geneva Cruise Line. Or, if you want to experience something new, the U.S. Mailboat Tour will show you how the mail jumpers deliver mail to about 75 waterfront homes from June to September.
Michael Cornish, E-'s founder, started E-Z Window Cleaning as a second job. We started out with a humble beginning of washing windows for a small number of residential homeowners. Since then, E-Z Window Cleaning has expanded into a company that can handle everything from small to big. We have the skills, knowledge, experience and equipment to complete any job fast and efficiently. Whether it is cleaning light fixtures and mirrors, or gutter cleaning and power washing, we give the same attention to detail. We are very confident in the quality of service that we provide. Therefore, we guarantee 100% customer satisfaction or a full refund will be given. We apply client feedback to help us continue to grow and improve. That is the secret to our remaining the best rated in the industry of customer satisfaction year after year.
Lake Geneva, Wisconsin – Window Washing Service
To obtain a free estimate, or for more information, please call us at
(262) 349-9411
or email
[email protected]
. Our friendly staff is here to answer any questions on servicing your "panes".