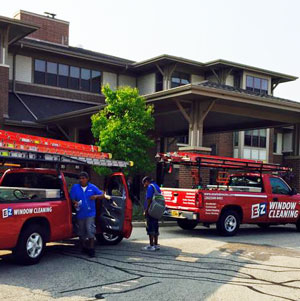 Leading Window Cleaning Company Menomonee Falls
The town of Menomonee Falls knows how to entertain their residents.  In the summer, flag wavers are speckled along Appleton Ave during the Fourth of July parade.  Later in the month, history buffs congregate at the Old Falls Village to witness a Civil War Reenactment.  The Falls Fest, then, features bands and foods that provide a gathering spot for friends and family.   In autumn, the Cheery Cherry Fair attracts local artists to sell their wares and the proceeds support the Cancer Care Center at the Community Memorial Hospital. A stroll through downtown provides picturesque waterfalls and great spots for selfies.
We started out E-Z Window Cleaning cleansing residential windows for men and women like you and others like you. E-Z Window Cleaning is just not satisfied with our cleaning services unless the customer is. Our goal is to go above and beyond your presumptions. To ensure the superior level of washing services, we take advantage of quality control programs. These include a consumer inspection at the end of each job and client surveys. And of course, we definitely encourage consumer communication. Therefore we utilize your suggestions to improve our level service. If we are helpless to meet our customer's full satisfaction, we are going to provide an entire reimbursement!
Menomonee Falls Window Cleaning Service
Make certain that you benefit from our 100% free quote. Otherwise, if you want more information, or just to coordinate a meeting, phone us at
(262) 349-9493
or
email E-Z Window Cleaning
. We'll be ready to answer every one of your overall questions or concerns.
Mirror and light fixture clean-up an equal regard to detail as window washing. Our company includes the skills and understanding to wash your fixtures the top way with the use of the proper compounds and processes. Whether it is a crystal chandelier or outdoor patio lights, we definitely are blessed with the info to do the job precisely!